Thoughts on the Removal of the Okalahoma Ten Commandments Monument - From Cowboy Churches to Silly Memes

It's been a few weeks now since the monument of the Ten Commandments at the Oklahoma Capitol has been removed. But a story that just made the headlines here locally has reminded me of it, Local pastor plans to deliver Commandments on horseback. That's right. A pastor from Wichita Falls, John Riggs, upset by the Supreme Court decision that the statue must be removed, is going to personally deliver a hand-held sized granite tablet to the governor of Oklahoma, Mary Fallin, who herself opposed the removal of the monument. Apparently, Riggs thinks that Christianity is under attack in the U.S., that "The ACLU is trying to wipe it out." Riggs "never thought we would have to defend our Christianity, especially here in the Heartland. It's a sad day in America." Yes - it's terribly sad when the Supreme Court upholds the First Amendment's establishment clause, and doesn't let politicians impose their religious beliefs on their entire constituency.
In another article, Cowboy Church takes 10 Commandments to Capitol by horse, Riggs further explained his motivation.
We're going back to the grassroots, because it's not easy, but we want people to know we need to go back and not forward. Go back to things we've left behind, which is primarily one nation under God.
I understand nostalgia, but one thing our country doesn't need to do is go backwards, turning back all the progress that's been made. When the country was founded, women couldn't vote, while black people could be owned as property. After the Civil War, at least slavery was illegal, but Jim Crow laws kept black people disenfranchised for generations. It wasn't until the '50s and '60s that the Civil Rights Movement finally got these laws overturned. Universal women's suffrage wasn't enacted in the U.S. until 1919 - over a century after the ratification of the Constitution. And it's only been this very year that marriage equality has been extended to homosexual couples. And that's not even addressing issues like poverty rate, violent crime, literacy, or any other host of factors that show that the modern day U.S. is a much better time to be alive for most Americans. Progress isn't always inevitable or smooth, and there are troubling trends right now that do need to be addressed (like income & wealth inequality), but at least that progress has happened.
Well, Briggs and the others traveling with him plan to make it to Oklahoma some time tomorrow. We'll see if they make any more headlines.
Related to this monument removal, I saw a really bad 'meme'* the other day on Facebook. I now forgot whose Facebook feed I saw it on, but I came across it again on Ed Brayton's Dispatches from the Culture Wars. Here it is: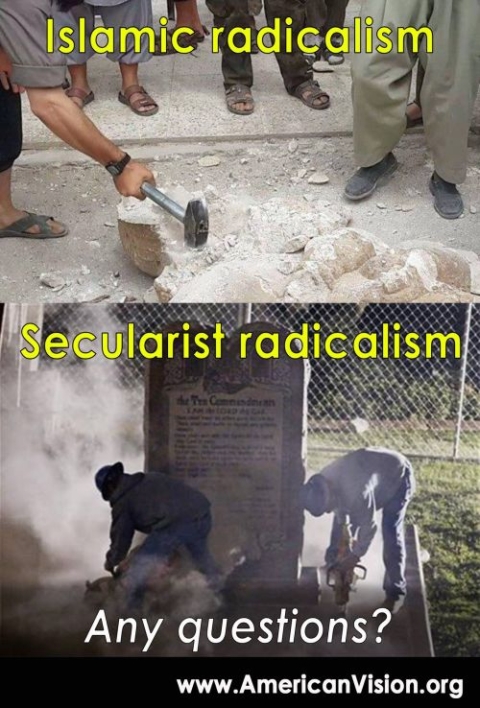 That image would have it seem that in the name of secularism, the U.S. is destroying religious iconography in exactly the same way as radical Islamists are destroying iconography from other religions. What that meme conveniently leaves out is the same scene from just a bit later: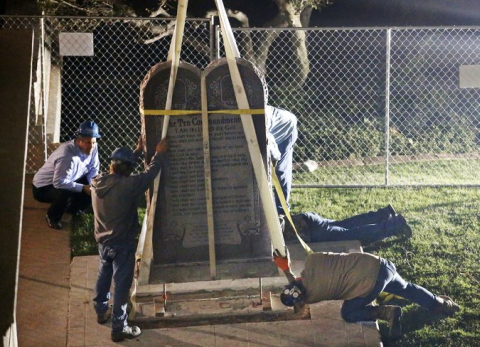 Those damn destructive secularists seem to be taking awfully good care of that religious monument. And according to the New York Times article from which that picture was taken, the monument is currently standing, intact, just a few blocks away.
The meme also leaves out the history of this particular monument. It wasn't installed until 2012**, when the lawmakers of Oklahoma already knew it was controversial and that they'd likely face legal challenges. It's not some timeless artifact, but a very recent breach of the separation of church and state.
Anyway, I'm glad the monument was removed from public property, and I'm glad it was done in such a way that the people who like the monument can save it and put it up somewhere else, as long as that somewhere else is private property, not government property.
Thumbnail Image Source: UlizaLinks.co.ke
---
*The scare quotes around meme are because I prefer the original definition of the term coined by Dawkins.
**Actually, the monument being removed is a replacement, installed in 2014, after the original was destroyed when a man crashed his car into it. Of course, it should go without saying that even though I disapproved of the monument in the first place, I strenuously disapproved of somebody intentionally destroying it.