Is Evolution Falsifiable?

I came across the following Quora question, Is the theory of evolution unfalsifiable?. Although I'm not sure the question was asked in good faith, it's still an interesting question to think about. Here was my response.
---
All good science should in principle be falsifiable. The problem is that some fields become so well backed up by evidence, it's hard to conceive how they could be falsified short of ludicrous conspiracy theories or Matrix like scenarios.
For example, take the roughly spherical shape of the Earth. For all intents and purposes, this is a concept that has been proven beyond a shadow of a doubt. You can find multiple Quora threads dealing with flat earth 'theories', such as this one, Let's say I don't believe the world is round. How can one prove the world is round to me?, which lists some of this overwhelming evidence in support of the Earth's true shape. It's really hard to conceive how this concept could be falsified given all that we know. It would take a conspiracy on par with The Truman Show, where everyone we thought we knew was an actor, and we had been misled our entire lives, or an equally ludicrous scenario like the Matrix, where we were living in a simulated reality not at all like the reality outside the simulation. In short, falsifying the roughly spherical shape of the Earth would entail a shake up so huge that we couldn't trust anything we thought we knew about the world.
Evolution in broad stroke approaches that level of certainty. Between biochemistry, biogeography, comparative anatomy, comparative embryology, molecular biology, paleontology, genetics, observed instances, and other lines of evidence, it's really hard to conceive of how the concept could be falsified.
One of the flip answers you'll often hear is rabbits in the Precambrian, supposedly a response from J.B.S. Haldane when asked what evidence he thought would falsify evolutionary theory. But to return temporarily to the flat Earth example, that's like saying that a photograph of a disc world from space would be evidence to falsify round world theory. But honestly, would the image below be enough to convince you that the world was flat? Or would you suspect Photoshop or some other type of hoax?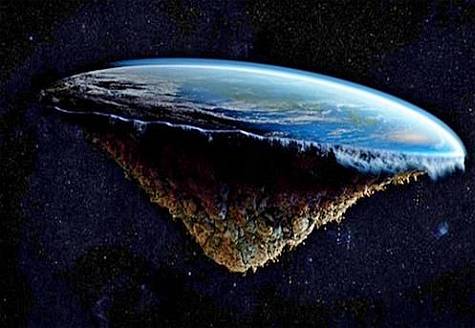 So even if fossil rabbits were claimed to be found in Precambrian deposits, they would be investigated and considered very extensively before being taken as evidence overturning evolution. Could they be hoaxes? Some type of disturbance to the geological column in that locale? A section of Precambrian deposits that were temporarily exposed long enough for some poor ancient rabbit to die and become fossilized there? To be honest, given the vast other data in support of evolution, a single Precambrian fossil rabbit would probably be chalked up to an unexplainable anomaly.
But, supposing more out of place fossils were found than just a single anomaly, or you could find evidence of huge conspiracies among all the world's biologists past and present lying about the evidence for evolution, or you could find evidence for the Matrix and that the real world is far different from this simulation that we're living in, then you might have something in the way of falsifying evolution.
---
More Info - I included a link to a Quora thread in the original answer, and I've written about the topic numerous times, myself. So, here are links to that Quora thread and a few of entries I've written.
Image Source 1: Wikipedia, with further editing by me.
Image Source 2: Pinterest - It's actually all over the place without attribution, so I doubt that I've actually found the original. If anyone knows the actual original source, please let me know.