Friday Trump & Politics Roundup - 9

This is my semi-regular feature to post links to articles about Donald Trump along with excerpts from those articles. Trump has the potential to cause so much damage to our country and the world that it's every citizen's responsibility to keep pressure on him and our other elected officials to try to minimize the damage. To read previous entries in this series and other Trump related posts, check out my Trump archives.
I'm slightly expanding the content of this series to include actions by other political figures, not just Trump.

Vox - How to stop an autocracy: The danger isn't that Trump will build an autocracy. It's that congressional Republicans will let him.
"Trump has shown himself unconcerned with the norms of American democracy. He routinely proclaims elections rigged, facts false, the media crooked, and his opponents corrupt. During the campaign, he flouted basic traditions of transparency and threatened to jail his opponent. His tendencies toward nepotism, crony capitalism, and vengeance unnerve. His oft-stated admiration for authoritarians in other countries -- including, but not limited to, Vladimir Putin -- speaks to his yearning for power. / Amid all that, David Frum's Atlantic cover story, "How to Build an Autocracy," is a chilling read. "We are living through the most dangerous challenge to the free government of the United States that anyone alive has encountered," he writes. The argument works because its component parts are so plausible. Frum does not imagine a coup or a crisis. He does not lean on the deus ex machina of a terrorist attack or a failed assassination attempt. The picture he paints is not one in which everything is different, but one in which everything is the same. / He imagines a Trumpian autocracy built upon the most ordinary of foundations: a growing economy, a cynical public, a cowed media, a self-interested business community, and a compliant Republican Party. The picture resonates because it combines two forces many sense at work -- Trump's will to power and the fecklessness of the institutions meant to stop him -- into one future everyone fears: autocracy in America." ... "Donald Trump is a paper tiger. But the US Congress is a tiger that we pretend is made of paper. It is, at this point, taken for granted that congressional Republicans will protect their co-partisan at any cost. It is, at this point, expected that they will confirm Trump's unqualified nominees, ignore his obvious conflicts of interest, overlook his dangerous comments, and rationalize his worst behavior. / That expectation -- and the cowardice it permits -- is the real danger to American democracy."

N.Y. Times - Supreme Court Nominee Calls Trump's Attacks on Judiciary 'Demoralizing'
"Mr. Trump escalated his public feud with the courts over his immigration order, saying that he had found a federal appeals court hearing on his executive order Tuesday night 'disgraceful,' and that the judges had failed to grasp concepts even 'a bad high school student would understand.' / The comments were a remarkable show of disdain by a sitting president for an independent judiciary..." ... "Mr. Trump's invective toward judges is a jarring break from a tradition observed by presidents of both parties. Presidents have usually tried to refrain from even appearing to intervene in court cases that concern them or their policies, or from impugning the jurists charged with deciding them, according to judges and legal experts from across the political spectrum." ... " 'It's not illegal, it's not a violation of the law to do these things, but it's bad policy because it raises questions about the independence of the courts, and it raises questions about the judicial system as a whole when the president says this,' said Peter Wallison, who served as White House counsel to President Ronald Reagan."

Vox - It sure looks like Kellyanne Conway just broke federal ethics rules
"The Nordstrom saga has now crossed the line from a somewhat vague conflict of interest (Trump seemed like he was defending his daughter, but his company, the Trump Organization, also owns the Ivanka Trump brand) to a seemingly more clear-cut violation of federal ethics rules. / Federal employees in the executive branch, including Conway, aren't allowed to 'endorse any product, service or enterprise.' / The rules are strict, and even cover things like writing book blurbs for authors the federal employees admire. (Not allowed.) When The Revenant, a novel written by Michael Punke, Obama's ambassador to the World Trade Organization, was made into an Oscar-nominated movie, Punke couldn't even talk about the film because to do so might violate federal conflict of interest rules."

Vox - Betsy DeVos can change education in America without doing a thing
"Education secretary nominee Betsy DeVos narrowly squeaked through the Senate on Monday, winning confirmation by a vote of 51 to 50 after Vice President Mike Pence weighed in to break the tie. / DeVos is the most controversial education secretary ever. She was confirmed with fewer votes than any Cabinet secretary in history. If Democrats hadn't abolished the filibuster on executive branch nominees in 2013, DeVos's opposition would have relegated her to the heap of Cabinet might-have-beens." ... "DeVos was not the candidate Trump would have picked if bipartisan consensus were a goal. She has no experience running a public school system or state university or shaping statewide education policy. Her signature issue, school vouchers, isn't particularly popular, and even some conservatives from rural states are skeptical of it because rural areas typically have few choices besides the local public school. She was guaranteed well-funded, well-organized opposition from teachers unions, who see vouchers as siphoning money away from public schools and into private hands. "

Vox - A congressman challenged CNN to name more than 2 white terrorist attacks. It's not that hard.
"The argument that this was a one-off incident is just false. These attacks have popped up time and time again throughout the West. It's not just the Quebec mosque attack that occurred last month or the 2015 Charleston mass shooting at a black church. They have occurred so frequently that Ben Mathis-Lilley managed to compile a list of 32 fatal white extremist attacks since Timothy McVeigh carried out the Oklahoma City bombing in 1995, including attacks by Ku Klux Klan leader Frazier Glenn Miller in 2014, neo-Nazi Keith Luke in 2009, and white supremacist James von Brunn in 2009. (And it doesn't even include attacks outside the US, like the 2011 Norway attacks by far-right extremist Anders Behring Breivik.)
And the statistics, in fact, show that right-wing extremist attacks, often carried out by white supremacists and nationalists, have typically killed more Americans in most years than Muslim jihadist terrorist attacks since 9/11."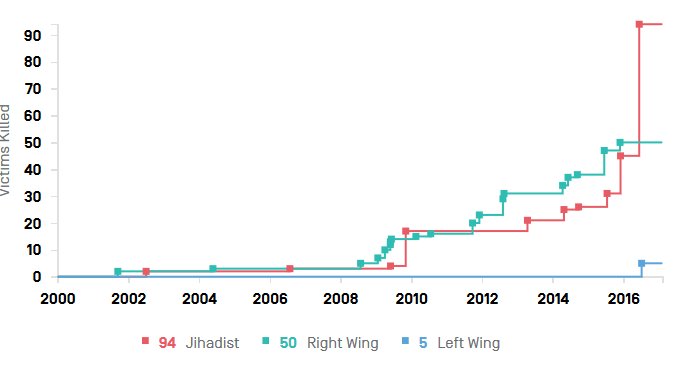 VOA News - Analysts Weigh In on Trump's Call to Repeal Johnson Amendment
" 'The theory of tax exemption for a broad range of organizations in the U.S. is that they have a public function, that they serve the good of the community at large,' said Barry Lynn, executive director of Americans United for Separation of Church and State, a Washington, D.C.-based religious liberty watchdog group. 'And religious institutions have been included within that range of good, non-governmental agencies that are deserving of a tax exemption.' / Many of these groups rely heavily on donations from private individuals and foundations. Being designated 'tax-exempt' by the IRS lends them legitimacy, increasing the confidence of would-be donors, who are allowed to deduct contributions to tax-exempt groups from their annual tax returns." ... "As the law stands now, individuals may not deduct from their tax returns any donations to politicians or political campaign groups. If the Johnson Amendment were repealed, though, it would open a new loophole in the law, encouraging individuals to make political contributions through religious groups and realizing tax benefits for doing so. / And that brings up another issue, says Lynn, financial transparency. Churches, he explains, are the only tax-exempt nonprofits that are not required to disclose their finances to the IRS, the public or even their donors. / 'So if the Johnson Amendment goes, I would argue that dark, hidden money will come into the political system through the churches,' Lynn said. 'They'd become, essentially, money-laundering operations and would never have to disclose the sources or amounts.' "
Related: Washington Post - The potential effects of repealing the Johnson Amendment

Nature - Trump immigration ban upends international work on disease
"Diseases don't respect borders, laws or walls. And efforts to combat them rely on networks of scientists to detect outbreaks early, understand how the diseases operate and then intervene. Researchers say that President Donald Trump's travel ban challenges that process, putting the United States at risk." ... "Public health is just one beneficiary of cross-border partnerships. Some policy analysts say scientific collaboration improves national security. If countries can respond to crises ranging from Ebola outbreaks to nuclear spills on their own, Americans are at less risk, says Hotez. Apolitical science partnerships make for good diplomacy, he adds."