Upcoming Darwin Day Events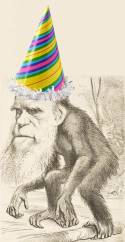 February 12th is Darwin Day. Many organizations are planning events for this weekend to celebrate. You can check DarwinDay.org for events close to you. Here are a few from across Texas and Oklahoma (well, at least the ones you can still make it to - there were some events earlier this week).

Austin, TX - Center for Inquiry: Darwin Day 2017
Feb 11, 12pm - 5pm
DarwinDay.org Details
Official Event Page
Facebook Page
"FREE event to celebrate the 208th anniversary of Darwin's birth. There will be something for everyone--fun learning activities for children and teens, fascinating lectures and trivia contest for adults, and professional development credit for teachers."

Tyler, TX - Darwin Day Tyler 2017
Feb 10, 5pm - 7pm
Feb 11, 10am - 4pm
DarwinDay.org Details
Official Event Page
Art & Seek Details
"This year's Darwin Day celebration features four main events: two different public science lectures, evolutionary themed video screenings, and a teacher development workshop. There will also be other events for students of all ages at the Discovery Science Place, the University of Texas at Tyler, and Tyler Junior College.
All events are free of charge!"

Nagadoches, TX - Darwin Day at SFA
Feb 10, 1pm
DarwinDay.org Details
Press Release
"The Stephen F. Austin State University Department of Biology will host its second annual Darwin Day program. The program will include a seminar by Dr. Charles Pence, assistant professor of philosophy and religious studies at Louisiana State University. Pence's seminar is titled 'Evolution and Chance: From Darwin to the Pioneers of Statistics in Biology.' "

San Antonio, TX - Trinity University: Panel Discussion on Darwin, Gender, and Race
Feb 15, 5pm - 6.30pm
"In celebration of Charles Darwin's 208th birthday join us for a discussion on Darwin, Gender, and Race. Four Trinity professors will provide a panel discussion of Darwin's views on gender and race, the current scientific views on race, and the contributions of minorities and women to evolutionary theory. Following brief introductory comments, the panel will open up for questions from the audience. Also be sure to check out the exhibit at the Coates Library, Third Floor: Who's studying evolution these days? A look at modern scientists; Feb. 8-15."

Norman, OK - Norman Naturalism Group: Darwin Day! Potluck and Speaker: The EVOLUTION of Religion
Feb 12, 5pm - 9pm
DarwinDay.org Details
Official Event Page
"The Norman naturalism Group celebrates Darwin Day 2017 with a pot-luck dinner and speaker. The topic is "The Evolution of Religion". Pull out your best recipe and get ready for some more good eating and good talking."