Science and Engineering Indicators 2012

Every two years, the National Science Foundation comes out with a report on Science and Engineering Indicators, detailing the state of science and engineering in this country, including public perception and understanding. The latest report is out at Science and Engineering Indicators 2012. Since 2004, I've written a short blog entry each time on that public understanding part (2004, 2006, 2008, & 2010). I'd always known that people didn't understand science well, but I was amazed at just how ignorant the population is.
Per my usual approach, I've reproduced some of the data from the section on public understanding of science. This year, however, I'm presenting the tables using an image format (I'm tired of fighting the formatting to make an HTML version fit). If you want an actual HTML version, you can find them here: Tables in HTML Format
This first table shows the U.S. compared to other nations. Honestly, the U.S. doesn't stack up so bad. Other than the questions that contradict a literal interpretation of Genesis, the scientific understanding of U.S. citizens is on par with those of other countries.
It's worth noting that the questions are organized a bit differently this year (separated between the physical sciences and the biological sciences). There was also a new question on cloning that hadn't been asked in years past. And two questions that were dropped a couple years ago to some attendant controversy have been brought back - the questions on the big bang and human evolution.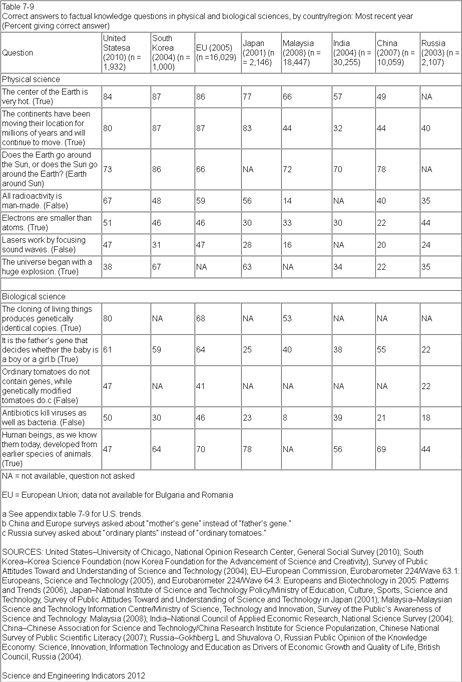 This next table is something that had been included in previous years' reports, but I couldn't seem to find it this year. So, I made it on my own. Below that is a graph of that same data, making it a bit easier to see the trends. All in all, nothing much has changed since they started doing these surveys. The only two questions that have shown significant variation over the years are 'The universe began with a huge explosion' and 'Antibiotics kill viruses as well as bacteria'. The big bang question only appears to have changed significantly due to an exceptionally high number of correct answers for the first year for which data is provided (54%). Since then, it's held steady at about 1 in 3 people getting it right. The antibiotics question showed a trend of significant improvement for many years, but seems to have plateaued in 2006 at 56% - the next two reports after that show a slight decrease.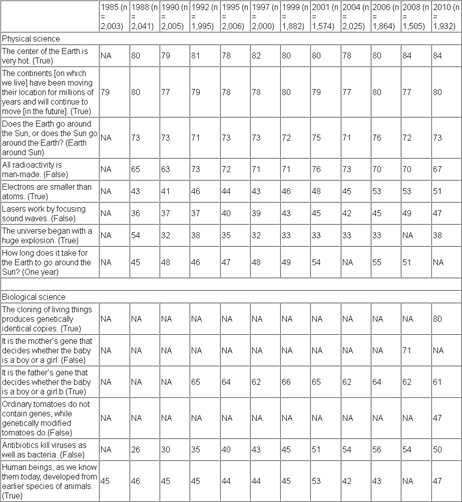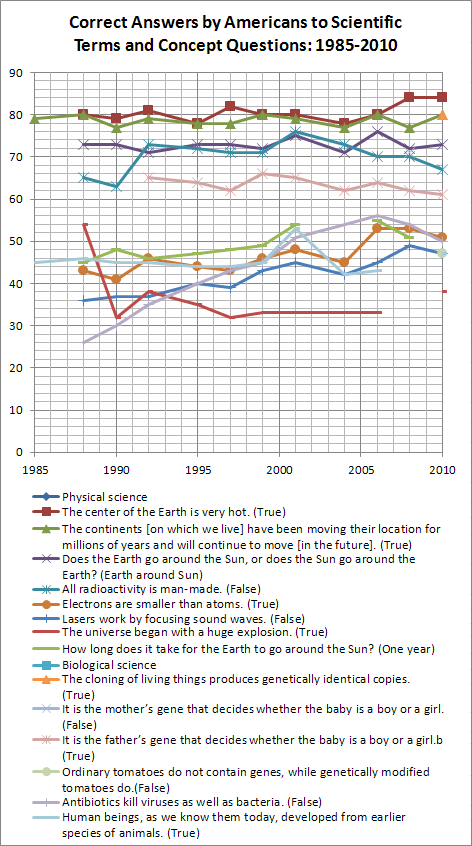 Since nothing much has changed, I'm just going to quote my conclusion from two years ago, instead of trying to think of something new.
"Just look at those results - around a quarter of Americans think that the Sun goes around the Earth, half don't realize that electrons are smaller than atoms, and half don't know that it takes a year for the Earth to go around the Sun! Keep that in mind whenever you hear people citing public opinion polls on the validity of concepts like global warming or evolution.
"It's always a bit depressing to see those numbers. It's hard to believe that the people of our nation are so ignorant. If there's one lesson to take away from these results, it's that we need to vastly improve our education system."