Happy Darwin Day 2017
I'm cheating. This is mostly copied from last year with just a few updates.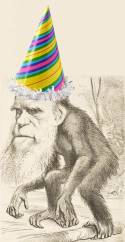 Today is Darwin Day, the 208th anniversary of Charles Darwin's birth. To quote one of my previous Darwin Day posts, Charles Darwin was "the man who presented evolution in such a way and with sufficient evidence that it became obvious that it was the explanation for how life developed on this planet. Others had ideas of transmutation before Darwin, and Alfred Russel Wallace even came up with a theory of natural selection very similar to Darwin's at around the same time, so it's apparent that humanity would have eventually recognized how evolution works. But Darwin's genius in presenting all the evidence for evolution in the way he did certainly gave the field a huge head start."
If you want to see if there's anything specific going on in your neck of the woods, you can check out the list of events at DarwinDay.org, or my recent post. I couldn't find anything for Wichita Falls again this year. And I never did watch Inherit the Wind last year, so maybe I'll be able to talk my family into it this year.
To celebrate Darwin Day on this site, I'm going to provide links to a few of my previous entries. This first set of links is entirely to entries specifically relevant to Darwin or written just for Darwin Day.
And while I write way too much about evolution to list all of my evolution entries, here are a few highlights since the previous Darwin Day: